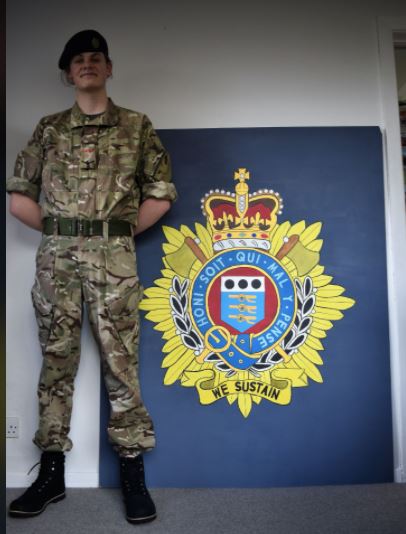 LCpl Lestyn Burke, a cadet from a RLC-affiliated Carmarthen Detachment, has created a remarkable new four-foot mural to be placed in his detachment's centre.
During the COVID-19 lockdowns, the young LCpl, who has served for three years with his cadet detachment, spent a year creating his masterpiece which was set to replace the existing mural of the Royal Regiment of Wales that was painted by a local artist in 1984.
Since the detachment became affiliated with The Royal Logistic Corps in 2019, LCpl Burke thought it would be better that the mural represented the cap badge of the newly affiliated Army Reserve regiment which the cadets share their centre with – 157 Regiment RLC.
He commented: "I wanted to donate the mural to the detachment as my way of giving back to those that have helped me over the years. I was very much looking forward to hanging it in pride of place and seeing it be used as a backdrop for presentations."
LCpl Burke began painting at a young age, following in his father's footsteps. He began working on the mural for an hour a day, but soon realised that he would need to spend more time on it and so together with his father, worked tirelessly for three hours each day to complete it.
One of the problems he faced along the way was the difficulty in storing the piece due to its large size. By the time it was finished, it had been kept in every room in his house before finally ending up being delivered to the detachment strapped to the roof of his mum's car!
Adult Under Officer (AUO) Darren Parker from the Detachment added: "We have not had an official unveiling because we are on limited attendance due to COVID-19, however the new RLC artwork now takes pride of place in our detachment; it looks stunning, a real one of a kind."