Royal Pioneer Corps
The presence of individual pioneers with infantry regiments was common throughout the 17th and 18th Centuries.
Military labour units were present at the Crimean War and 'pioneers' are referred to in records of campaigns in France from as early as 1315. There is also a description of a soldier we might now describe as a 'Pioneer' in the Book of Nehemiah, part of the Old Testament. However, there is little evidence to directly link these 'pioneers' to the Pioneers of today.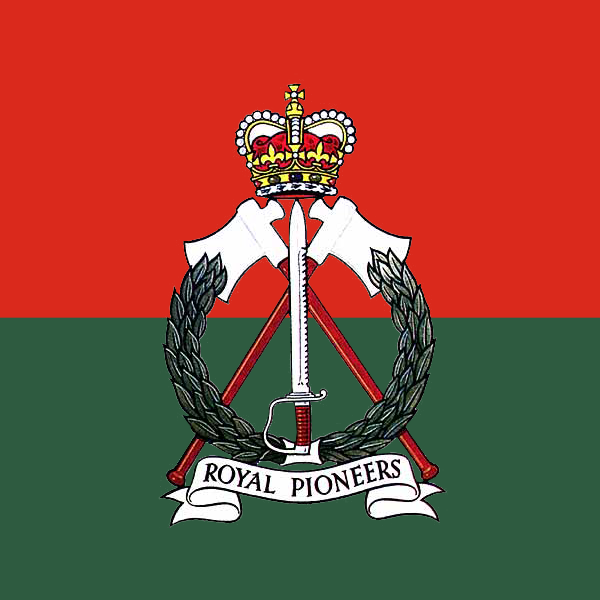 Motto: Labor omnia vincit
March: The Pioneer Corps
Colours: Green and Red
During the First World War, regiments or corps of the British Army had their own 'Labour Companies' and infantry regiments often had their own 'Labour Battalion' for field engineering tasks. In 1917, the Labour Corps was involved in battlefield clearance when hostilities had ended and this included the construction of some Commonwealth Cemeteries. Despite its disbandment in June 1920, the Labour Corps is now recognised as the predecessor of the Royal Pioneer Corps.
At the outbreak of the Second World War, the Auxiliary Military Pioneer Corps was formed. In 1940, it was retitled the Pioneer Corps. In addition to British soldiers, the Pioneer Corps was heavily composed of men from the British Empire and Nazi-occupied Europe.
In 1946, the Pioneer Corps was granted the Royal prefix for its services during the Second World War.
Controller
Royal Pioneer Corps Association
c/o 1 Regiment, Royal Logistic Corps
St David's Barracks
Graven Hill
Bicester
Oxfordshire
OX26 6HF
Telephone: 01869 360694