With military history on display, from Agincourt to the present day, including Monty's D-Day Rolls Royce, a range of military horse-drawn and motorised logistic vehicles, uniforms, weapons, medals and much more; this fascinating and unique museum gives visitors an insight into how the British Army was moved, supplied and sustained over the centuries.
Tuesday to Saturday 09:30 to 16:00 (last entry at 15:30)
Free entry and car parking
Worthy Down, Winchester, SO21 2RG
Please note that the Museum's last day of opening will be Saturday 16th December 2023 and will re-open on Tuesday 16th January 2024 to allow for behind-the-scenes work to be carried out over Christmas and the New Year.
The South's newest visitor attraction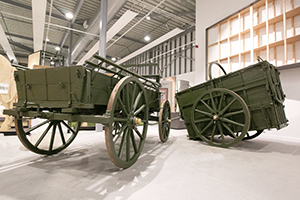 The new RLC Museum near Winchester will allow much more of the RLC's unique collection to be displayed and has many interactive displays, a small cinema, a cafeteria and work rooms. With activities for children, uniforms to try on, puzzles to complete and many things to see and do, The RLC Museum provides a great day out for both young and old.
Latest Museum News & Events
A World War One Living History Display of Horse Transport and Supply 11-13 August 2023 The RLC Museum, Worthy Down, SO21 2RG The Royal Logistic…
The brand new RLC Museum at Worthy Down is due to open in May 2021. Part of the museum will house a temporary, six-month, exhibition. The…