RLC Horse-Drawn Heritage Collection
Driving the Past
The Royal Logistic Corps Horse-Drawn Heritage is a voluntary group of service personnel and civilian horse men and women, who are dedicated to maintaining and preserving as many as possible of the horse-drawn transport types used by the British military.
Royal Logistic Corps Horse-Drawn Heritage – Driving the Past
Horse Transport in the 1914-18 War
When the British Army went to war in August 1914, it was entirely reliant on horsepower. Motor vehicles were still a novelty, expensive, not always reliable, and yet unproven. Although the War Office had commissioned many trials of motor lorries, motor cars and even tracked vehicles, very few had been accepted into service. At a time when many of the civilian haulage contractors and Omnibus companies were mechanizing, the fastest that the Army could move, once off the boat or train, was at the speed of a horse.
Military tradition and the tactical mindset still considered the man on horseback to be the best antidote to the man on foot and at the outset of war the cavalry and mounted infantry still had the greatest capability, until they met machine guns and barbed wire. Motor vehicles were heavy and confined to good roads. The Army needed good cross-country capability and only animal transport could provide that. Change was coming fast but not soon enough to give the Army any other option. Almost everything that moved on wheels was horse-drawn.
RLC Horse-Drawn Heritage has a number of WW1 vehicles in its collection, most of which are displayed with or without horse power throughout the year around the country. Details of our vehicles can be found on our website www.rlcheritage.co.uk
The collection also includes two Holland & Holland coaches. The Sir Reginald Kerr Park Drag was built in 1875 and obtained for the Corps in 1939 by Lt Col Kerr of the RASC.
The RLC Regimental Coach…….
Both of these vehicles are regularly maintained and displayed and entered in country shows around the country.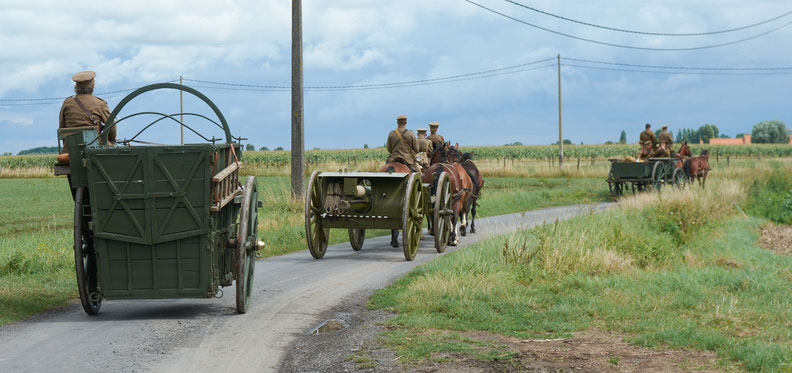 Opening Times
Weekdays
Tue – Sat 9:30am – 4:00pm.
Last entry at 15:30
Address
The Royal Logistic Corps Museum
Building 301, Worthy Down, SO21 2RG
Telephone: 0196288 7793
Free Parking
The Museum has extensive free parking for cars, motorbikes and bicycles.
Accessibility
We have good disabled access, an accessible toilet and free parking. Feel free to contact us ahead of your visit to discuss your individual needs.