7 Regiment RLC have recently returned from a demanding and complex series of Squadron level exercises in Galloway, Scotland. Exercise ORZEL KOZNY represented the pinnacle of training in the Regiment's committed year and tested all Regimental Sub-Units in a variety of scenarios in an increasingly complex battle picture involving interactions with state and non state actors in a peace support operation.
In this demanding exercise sub-units rigorously tested the Force Logistic Regiment construct in a challenging environment, conducting logistic support tasks from a Force Support Area forward to dependent units. This mirrors the role of the Regiment on operations in providing logistic support across greater lines of communication and assuming the roles of both a Theatre Logistic Regiment and Close Support Logistic Regiment in support of a deployed Brigade.
Throughout the exercise, 68 Supply Squadron sustained and accounted for CSups and Materiel using SEESUP2 Logistic Information system (Log IS). As the demand dictated, the DCR levels were maintained using one of the four forward Distribution Point (DP) operations. Other serials saw unit collects being placed on the BSA, managing return stores including ammunition, daily in-loads from 4th line and managing numerous bans and constraints placed on various commodities. All consignments that were distributed in and out of the BSA were consignment tracked using VITAL.
Simultaneously 9 Fuel and General Transport Squadron were tasked with the delivery of stores forward and the rearward supply from Brigade combat units. Moving at night and tactically, the Squadron had to evade a live enemy and ensure that they had robust protective measures to be successful. The densely forested and mountainous terrain coupled with the challenging weather tested communications throughout the exercise and kept radio operators in a state of frenzied activity throughout.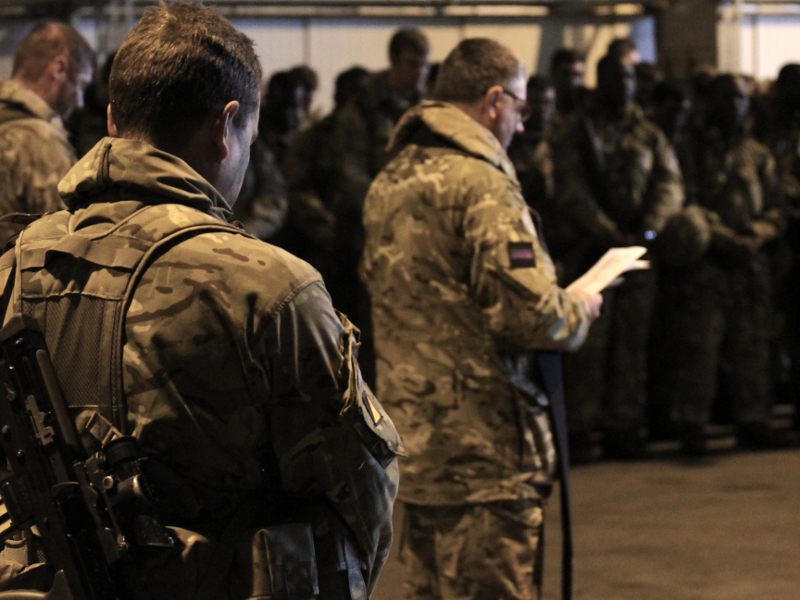 A tactical pause on Wednesday 11 November saw the Regiment gather for a service of Remembrance to mark the 97th Anniversary of the end of the Great War. This solemn occasion was well suited to the field environment.
The Exercise was very successful and 7 Regiment is well placed to fulfil its role worldwide.