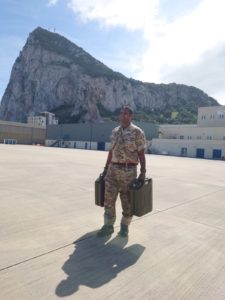 In 2020, the COVID-19 pandemic was at the forefront of global news. However, in the background, the European Union negotiations were still on hold and with it came the uncertainty of the transition process. As a result, British Forces Gibraltar's continuity plans for an EU exit were enacted.
Following on from ROTO 1, which included four Petroleum Operators from 13 Air Assault Support Regiment, 27 and 9 Regiments, came ROTO 2; a Tri-Service deployment with Petroleum Operators from 9 Regiment RLC and suppliers from the Royal Air Force and Royal Navy.
The main responsibility for the team involved was the Quality Assurance and Storage of 30 Days of Supply packed fuel whilst it was in Gibraltar and stock piling and storing fuels within the Kings Line Operating Fuels Depot tunnel system.
Their secondary role was to provide advice and guidance on Fuels, Lubricants and Associated Products (FLAP) as the Suitably Qualified Experienced Person in country – something that had been neglected and not understood properly for many years. Whilst in Gibraltar, the team has worked tirelessly to ensure units and stakeholders met the compliance of the Defence Logistic Fuels Policies and National Audit Office VFM.
Cpl Waqa of 66 Squadron, 9 Regiment RLC, who deployed to Gibraltar on the 8 January 2021 as part of the Operation STONEWISE team, commented on his experience: "I've really enjoyed my time in Gibraltar – it has been a very challenging and exciting period of my career and a great experience representing 9 Regiment RLC. I have also enjoyed working in a Tri-Service team alongside the Defence Infrastructure Organisation for Strategic Command."
The teams' three-month rotation comes to an end this month when they will be handing over to a smaller two-person team to carry on what has been implemented.