Colonel Gillian Wilkinson QVRM VR has taken up post as Colonel RLC Reserves in RHQ The RLC, Worthy Down.
On Thursday 3 September, Colonel Wilkinson met with her new team and completed her handover from the existing Colonel RLC Reserves, Colonel Mark Siebenaller TD VR.
Colonel Wilkinson was educated at Foyle and Londonderry College and held a Royal Corps of Transport bursary at the University of Dundee. After commissioning into The Royal Logistic Corps in August 1996, she was posted to 2 Close Support Regiment in Gutersloh and deployed on Op BANNER, commanding North Belfast Troop in support of 3 Parachute Regiment and 2nd Battalion, The Light Infantry.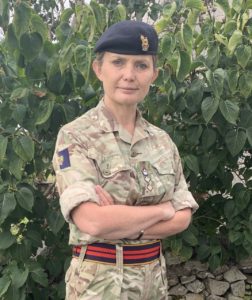 On promotion to Captain, she was posted to 4 General Support Regiment and deployed as Operations Officer, Split North Port, commanding the Port Task Group and managing the roulement of vehicles and equipment into the Balkans on Op PALATINE.
Col Wilkinson left the Regular Army in 2001, but in 2003, joined 152 (Ulster) Transport Regiment RLC as a Reservist Officer and two years later, she was posted to the Army Officer Selection Board in Westbury.
In 2007, she moved to HQ 52 Infantry Brigade and was responsible for support to Op HERRICK 7 casualties and their families. She assumed command of 230 Transport Squadron, The Scottish Transport Regiment RLC, in 2008 and in 2009, attended the Canadian Forces College Joint Command and Staff Course in Toronto.
In 2010, Col Wilkinson completed a Post Graduate Diploma in Education at the University of Edinburgh, taking a year away from the Reserves to meet the demands of her teaching career. Fortunately, her Westbury experience opened the door to more flexible civilian employment within leadership development and she now undertakes consultancy work for Ceannas and Shortsmoor.
She attended the Advanced Command and Staff Course (Reserves) in 2012 and moved to a Career Management Policy role at the Army Personnel Centre before commanding 154 (Scottish) Regiment RLC from 2014-2017. Before taking on her new role as Colonel RLC Reserves, she was Deputy Commander Reserves at The Royal Military Academy Sandhurst.
Outside of her work with the British Army, Col Wilkinson lives in Melrose in the Scottish Borders with her husband, Alan. Their children, Katy and Andrew, both study at the University of Glasgow. In her spare time, she enjoys being outdoors and is often persuaded to participate in cross-country running and open water swimming events!
RHQ The RLC extends a warm welcome to Colonel Gillian.