An insight into the involvement and impact of the forming Corps of the Royal Logistic Corps (RLC) in post-war Europe.
8 May 1945 – a significant day in European history. Across the world, millions celebrated Allied Victory in Europe and rejoiced in the news that, after nearly six years of war, Germany had surrendered. The Second World War had cost the lives of millions; destroying families, cities and bringing with it a long period of suffering to entire populations. Victory in Europe (VE) Day saw towns and cities across the world celebrate, relieved that the extreme burden of war was finally over.
However, VE Day did not signal an end to the conflict of World War Two, nor was it an end to the huge impact that the war had on people. What VE Day did mark was the beginning of the political, economic and physical rebuilding of Europe. Often, when we now look back to the end of the Second World War, we rarely put our minds to what happened next. For most, the memory of VE Day is one of elation, a time when the people united together to celebrate the end of a violent and fearful war. In reality, the immediate interval after 8 May 1945 was just the start of a long and difficult process of rehabilitation across the continent.
Allied servicemen found themselves being redeployed outside of Europe (where fighting would continue for months) and also mobilised within Europe to start the rebuilding efforts. These servicemen included those serving in Corps that later formed the Royal Logistic Corps (RLC) – and their undertakings to support work to solve international problems of economic, social, cultural, and humanitarian character should be highlighted. Such tasks – established as part of the United Nations Charter on 26 June 1945 – were many and varied; from the liberation of Bergen-Belsen, to the disposal of ammunition.
Shortly before VE Day 1945, on 15 April, Bergen-Belsen was liberated by the British 11th Armoured Division. The soldiers were confronted with over 60,000 emaciated prisoners who were in desperate need of medical attention, food and water. Their first priorities were to contain the spread of disease, bury the dead, restore water supplies and arrange for the dissemination of food. Coverings for bodies were provided and a proper registration program was organised. Additional military and civilian medical support was called upon to support the relief effort to help the British who faced significant challenges in responding to the crisis. One role taken on in this operation by soldiers in the Royal Army service Corps (RASC) was the delivery of British hygiene goods.
Major C.R. Thompson, M.C. of the RASC wrote of his experience at Belsen:
"I was immediately sent to a room nearby to be treated with insecticide. I was stripped completely and men of the Royal Army Medical Corps (RAMC) sprayed my body with that now famous powder, A.L.63. On completion I dressed and prepared to deliver my goods into the concentration camp."
"I visited a cookhouse controlled by a British Army sergeant. He was issuing good hot food, strictly rationed and controlled. A British mobile bath unit was already in operation, hot water and soap being freely given. Ablution and sanitation facilities never before existed in Belsen, water being a luxury commodity, for drinking only, and strictly rationed at that."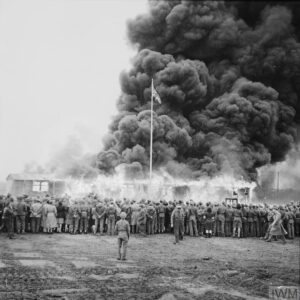 Also involved in this vast operation were serving soldiers of the the Royal Pioneer Corps (RPC), another forming Corps of the RLC. Corporal Bernard Elliott of 8 Royal Pioneer Corps Group HQ wrote of his experience at Belsen:
"The smell and desolation surrounding the camp was overwhelming. The Commanding Officer rounded up all the officials and wealthy people of Belsen and set them to work caring for the sick and dying and burying the dead." (WW2, People's War, 2014)
In May 1945, Colonel Karol Ziemski formed Polish Auxiliary units made up from Prisoners of War, refugees, forced labourers and conscripts who were initially used to guard captured German armour. By the time the Mixed Service Organisation (MSO) was formed in 1947, the tasks of the Auxiliary Units had expanded, including efforts to move Allied and German armour throughout Germany. The MSO trained with British recruits, gaining qualifications and driving licences to drive the British Tank Transporters in their role of the recovery and clearance of armour. A clear highlight during this period was their considerable involvement in the Berlin Airlift of 1948, which saw a total of 277,569 British and American flights deliver food, fuel and other supplies to West Berliners.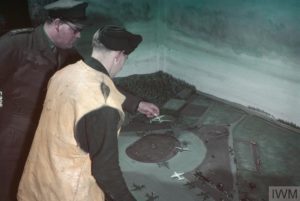 In May 1948, the MSO were officially designated as Tank Transporters and they joined 15 Company Royal Army Service Corps as 317 Unit MSO and 312 Unit MSO. When the Royal Corps of Transport (RCT) was formed in 1965, 7 Tank Transporter Regiment took command of both sub-units and a further two troops of British soldiers. The sub-units were eventually re-named 617 Tank Transporter Squadron and 16 Tank Transporter Squadron.
Additionally, we also know that a crucial task undertaken by the Royal Army Ordnance Corps (RAOC) in the wake of the war was the disposal of ammunition. ROAC units were heavily involved in clearing ammunition from Germany's former depots, as well as clearing live devices still in the battlefield. At home, the RAOC focused on the disposing of a vast amount of surplus stock from depots and returning, in good order, areas of land that has been requisitioned for the war. One site involved was the land around Garendon House in Leicestershire, which during the war was occupied by Number 32 Ammunition Sub-Depot and primarily used for the storage of munitions including small arms cartridges, artillery shells, grenades and gas shells. After the war, the site was heavily involved in RAOC operations to recover all of the ordnance and either put it back into service, recycle, or dispose of it – with hundreds of tons being destroyed by controlled explosions.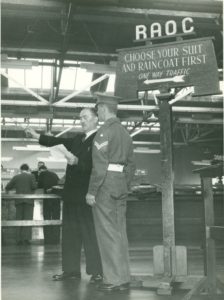 Moreover, the RAOC also had a substantial involvement in one of the British government's greatest post-war challenges; the British Army demobilisation process. The process began on 18 June 1945, approximately six weeks after VE Day and the RAOC were tasked with running the Army Demobilisation Centres across the country. The operation set out to release service men and women from the armed forces, whilst helping them to re-settle into civilian life. The procedure followed that of a phased process with most being released according to their age and length of service, however a small number of 'key men', whose occupational skills were essential to post-war reconstruction efforts, were released ahead of their turn. A demobilisation grant was received, along with the infamous 'demob suit', as many no longer had their own clothes after spending years in uniform. Clothing rationing and the need for a large quantity of coupons also meant that it was not possible to buy a suit or clothing from a shop.
Without a doubt, the forming Corps of the RLC played a key role in the reconstruction of post-war Europe after VE Day. That memorable day on 8 May 1945 definitely marks a key event in world history; one could say that instead of the end, it was really only just (to paraphrase Sir Winston Churchill) 'the beginning of the end' of what proved to be a long and strenuous rebuilding process to reconstruct and reconcile Europe. It is clear that we owe much of the success and strength of the RLC today to the forming Corps and their efforts in this immense and highly taxing period of British history. It is these efforts, along with the endeavours of all those involved, that we must also celebrate on this 75th anniversary of VE Day.
WW2 People's War 2014, My life in the Royal Pioneer Corps, BBC, accessed 29 April 2020, https://www.bbc.co.uk/history/ww2peopleswar/stories/41/a7138541.shtml