Regular Soldier Careers
With 16 trades to choose from, the RLC has something for everyone.
Learn about your career progression and find your future trade by checking out the information below.
Promotion & Career Progression is Clearly Defined in The Army
PRIVATE
Once you've finished your Phase 1 (basic) training, you'll start your career as a Private. Following Phase 2 (Combat Logistician) and your trade training (Phase 3) you will join your unit.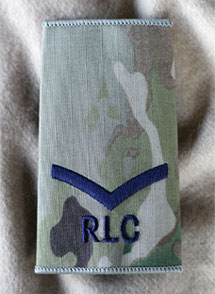 LANCE CORPORAL

Promotion to Lance Corporal may follow after about 3 years as a Private. Lance Corporals supervise small teams of up to four soldiers. You'll also have the chance to upgrade your specialist trade training.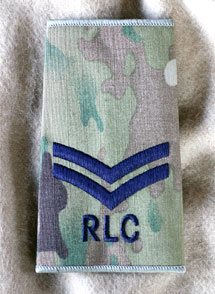 CORPORAL
After 6-8 years, depending on your ability, you'll be promoted to Corporal. You'll have the chance to gain advanced trade and instructor qualifications. You'll command more soldiers and could be in control of equipment like a Mexi-Float.
SERGEANT
Once you've served for around 12 years, you may be promoted to the rank of Sergeant. This is a senior role and usually involves being second of command of a troop of up to 35 soldiers. You'll also be working closely with junior officers.
STAFF SERGEANT

A Staff Sergeant is a senior role where you'll rely on both your resource and man management skills. You may command a troop, or could be selected to undertake a senior instructing role.
WARRANT OFFICER CLASS 2

Also known as a Squadron Sergeant Major, or Squadron Quartermaster Sergeant Major, when you reach this rank, your job is a technical lead or to focus on the training, welfare and discipline of a squadron and advise the Major in charge of your subunit.
WARRANT OFFICER CLASS 1

Or Regimental Sergeant Major. This is the senior soldier rank and you will have served for about 18 years, with an outstanding record. The role involves the leadership, discipline and welfare responsibilities of up to 650 people. You could also be a head of trade.
Variety   Qualifications  Skills for Life
Whatever your interests, become soldier in The RLC because we have a career to suit you.
LIKE WHAT YOU'VE SEEN? INTERESTED IN AN ARMY CAREER?
Get in touch and start your journey, by clicking the link below
waiting to start phase 1 training? NEED HELP AND ADVICE?
Call The RLC Nurture Team  Telephone: 01252 833446