Honours
The highest rewards in all ages and nations have been bestowed for acts of valour and military bearing in the face of an enemy
The Royal Logistic Corps and its Forming Corps have to date been awarded five Victoria Crosses and eleven George Crosses. A number of these medals are now held by The RLC Museum and RCT Medal Collection.
Victoria Cross
The Victoria Cross (VC) is the highest military decoration awarded for valour "in the face of the enemy" to members of the armed forces of various Commonwealth countries, and previous British Empire territories.
Private Richard George Masters VC ASC
9 April 1918
Private Richard George Masters was awarded the Victoria Cross whilst attached to 141 Field Ambulance. Masters' VC was awarded for driving his ambulance to evacuate a significant number of casualties whilst under fire, saving many lives in the process. This action took place on 9 April 1918 near Bethune, France.
Temporary Second Lieutenant Alfred Cecil Herring VC ASC
23 March 1918
Temporary Second Lieutenant Alfred Herring was awarded the Victoria Cross whilst attached to the 6th Service Battalion, Northamptonshire Regiment. Herring's VC was awarded for his gallant action as a platoon commander in capturing the Motagne Canal Bridge at Jussy, France, and in then resisting an eleven hour German counter attack to recapture the bridge on 23 March 1918. After the First World War he was a member of the VC Guard at the interment of the Unknown Warrior in Westminster Abbey on 11 November 1920.
Acting Assistant Commissary James Dalton VC
22 January 1879
James Langley Dalton was awarded the Victoria Cross in 1879 in recognition of his role in the defence of Rorke's Drift.  Dalton had left the Army in 1871 but joined the Commissariat and Transport Department in 1877. As an experienced soldier he played an important role at Rorke's Drift and was largely responsible for organising the defence in the face of Zulu attack.
Farrier Michael Murphy VC
15 April 1858
Michael Murphy was awarded the Victoria Cross whilst serving in the Military Train in the relief of Azmighur during the Indian Mutiny in 1858. Infamously Murphy was ordered to forfeit his VC after being found guilty of the theft of fodder. In doing so he became one of just eight men to have been stripped of their VCs.
Private Samuel Morley VC
15 April 1858
Samuel Morley served in the Military Train alongside Michael Murphy and was also awarded the VC in the relief of Azmighur in 1858. Morley was not initially awarded the VC, the injustice of which was revealed following an official inquiry. Morley's VC was eventually gazetted on 7 August 1860, and it was later presented to him by Queen Victoria.
George Cross
The George Cross (GC) is the highest gallantry award for civilians, as well as for members of the armed forces in actions for which purely military honours would not normally be granted.
Staff Sergeant K S Hughes GC
19 March 2010
Staff Sergeant Kim Spencer Hughes GC was awarded the George Cross for gallant acts carried out in the Afghanistan conflict. Hughes made safe over 80 improvised explosive devices on his tour of Afghanistan. His citation states that he carried out the single most outstanding act of explosive ordnance disposal ever recorded in Afghanistan.
Staff Sergeant O S G Schmid GC
19 March 2010
Staff Sergeant Olaf Sean George Schmid GC (11 June 1979 – 31 October 2009) was an Ammunition Technician who was killed in action in the Afghanistan conflict. Schmid was posthumously awarded the George Cross after he made safe 70 devices before his death in October 2009. The citation was presented to Schmid's widow, Christina Schmid, by the Chief of the Defence Staff Sir Jock Stirrup on 18 March 2010 in a ceremony in the City of London.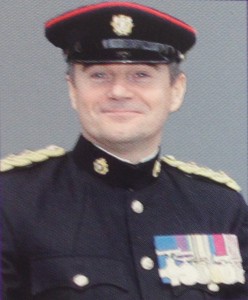 Major P A Norton GC
23 March 2006
A Captain at the time, Major P A Norton GC was second-in-command of the American Combined Explosives Exploitation Cell (CEXC) based in the outskirts of Baghdad. Going to the aid of a United States Army patrol that had been attacked by an improvised explosive device (IED) on 24 July 2005, he was checking for the presence of further devices when a secondary victim-operated IED exploded. He lost his left leg and part of his left arm, and he sustained serious injuries to his other leg and lower back. Despite his injuries, he continued to give instructions to his team, suspecting that further devices might be in the vicinity. He refused to be evacuated until he was certain that all personnel on the ground were aware of the danger. A third device was subsequently located and dealt with the following day. Since his team contained two special agents of the FBI, Norton was also awarded the FBI Star on 27 March 2009.
Warrant Officer Class One B Johnson GC – 6 November 1990
Major S G Styles GC – 11 January 1972
Staff Sergeant Sydney Rogerson GC – 21 October 1946
Driver J Hughes GC – 27 March 1946
Major K A Biggs GC – 2 January 1946
Corporal J P Scully – 8 July 1941
Captain R L Jephson-Jones – 24 December 1940
Lieutenant William Eastman GC RAOC – 24 December 1940
Albert Medal
The Albert Medal for Lifesaving was a British medal awarded to recognise the saving of life. It has since been replaced by the George Cross. The medal was named in memory of Prince Albert and originally was awarded to recognise saving life at sea.
Pte W C Cleall – 11 August 1919
Lieutenant G Rackham – 27 October 1918
Private A Johnson – 30 June 1918
Driver A Horne – 30 June 1918
Major L C Bearne DSO – 22 October 1916
Private A E Usher – 22 October 1916
Lieutenant S A Rowlandson – 2 May 1916
Staff Sergeant T M Walton – 2 May 1916
Private A Anderson – 2 May 1916
Private J T Lawrence – 2 May 1916